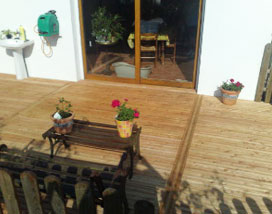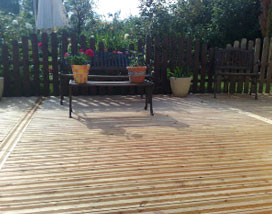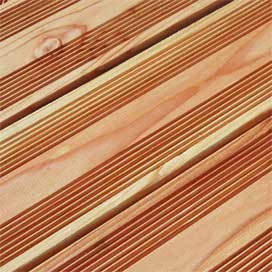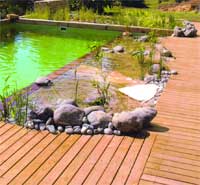 The trend to natural looking pools and sustainable design places great emphasis on wood decks.
Better than some exotic timbers which are not environmentally friendly, our decking boards are larch from the Limousin forest and are not treated with any chemicals.
They are naturally very resistant to moisture (class 3). This high quality material gives a natural look to your outdoor design, and contributes to sustainable development.
Specifications
Our decking is composed of regular boards widths of 10 or 12 cm, and fixed length of 2.00 m or 2.40 m. Their standard thickness is 22 mm. They are grooved on the face with anti-slip ridges, and their edges are rounded. All our boards are reversible, with the possibility of fixing them with ridged face or smooth face showing.
Installation Recommendations
The boards should be fixed by A4 stainless steel screws on joists (spaced at 0.40 m).
On a hard surface (stone or concrete terrace).
Use Class 4 joists screwed into the base.
On soft or irregular ground construct concrete pads with level tops in which to screw the joists.
Our slides are delivered planed but not sanded.
A natural stain or oil may optionally be applied to them.
Advice on the fixing of decking boards.

Conseil de pose des Lames de terrasses
Téléchargez la fiche Lames de terrasse

Téléchargez